Mississauga News
Website offers news fundraising possibilities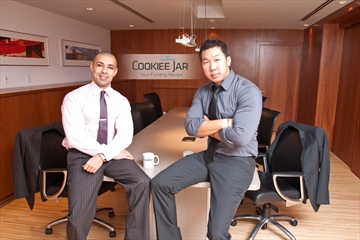 Fundraising. Taleb Farag (left) and David Le are the co-founders and owners of CookieeJar.com, a crowdfunding site they believe will change how money is raised.
Mississauga now has its own crowdfunding site called CookieeJar.com thanks to two City Centre residents.
Taleb Farag and David Le say their website is a platform for anyone trying to raise money for a cause: charities, film-makers, writers who need cash to publish, musicians looking to record or tour, and entrepreneurs looking to fund a startup business.
Until recently, social media seemed only to make money for those businesses that provided the vehicle — companies like Facebook and Twitter. With crowdfunding, a term that describes the collective effort of individuals who network and pool their money, usually via the internet, to support efforts initiated by others, anyone who has an idea can get a cut by running an online campaign.
CookieeJar launched Nov. 7 and already has a number of campaigns under way, though some sound more like cyber-begging than funding appeals.
"The platform can support unlimited users," said Farag. "But we have to personally approve each campaign."
Farag and Le believe crowdfunding is the fundraising way of the future, functioning alongside more traditional systems.
Farag, 32, says the site will also allow businesses to partner with charities for special fundraising deals.
The power of crowdfunding is hard to argue. Max Sidorov, of Toronto, set out to raise $5,000 for a bullied bus monitor in New York to take a vacation. Instead, he raised more than $700,000.
The U.S. Securities and Exchange Commission is currently working on changing regulations to make equity-based crowdfunding legal for startup companies. While the Ontario Securities Commission is considering similar changes, there's no certainty they will change the regulations. Changed regulations would mean startups could offer crowdfunders equity for capital without having to issue an expensive Initial Public Offering.
Farag is a service consultant for an Oakville Infiniti auto dealership, and he's been hooked on the internet since it arrived. Fifteen years ago he ran a BBS (bulletin board system) and he later operated a health and fitness website.
CookieeJar.com is a lot more sophisticated.
Anyone wanting to raise money starts a campaign that has a defined duration (30 days, for example) on CookieeJar.com. The amount of effort put into it and viewer response will determine the project's success or failure.
The site uses PayPal to handle the transfer of funds. To receive funds, users are required to have verified PayPal accounts, which means Farag and Le know the banking information is correct.
Any kind of campaign is allowed on the site, but each person who registers is limited to four campaigns per year and a top donation of $2,000 up to four times per year.
Le provided the IT expertise to set up the website while Farag came up with the concept and research, and he handles marketing as well.
It costs nothing to register with CookieeJar.com or to start a campaign. Their fee is five per cent of the money raised by campaigns to operate and maintain the site.
"Younger people are definitely more aware of crowdfunding right now," Farag said. "But that will change, especially when people see that it works."
Go to
Mississauga News (Website offers new fundraising possibilities
for full article.